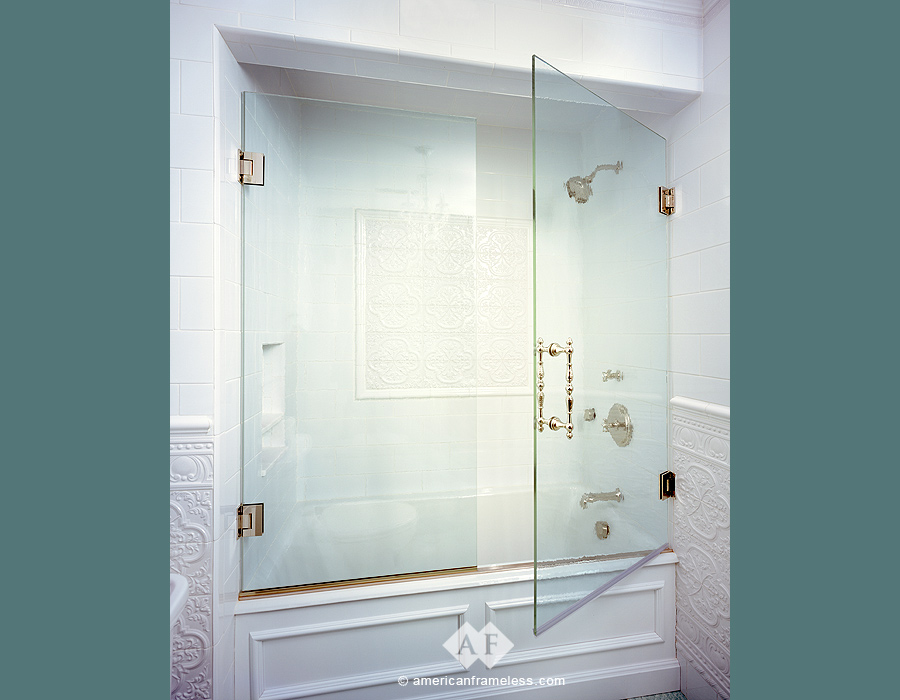 American Frameless: creating bathtub glass doors, frameless shower doors, glass pool fencing, glass deck enclosures, and other glass walls, panels, doors and enclosures to enhance your home.
Our elegant, bathtub glass doors are especially popular in bathrooms where they keep the natural light flooding in and at the same time prevent shower and bath splashes from leaking out.
Swinging glass doors also make elegant entrance doors and can be used on pool enclosures, wine stores, patios, verandas – in fact, just about anywhere you could install a regular door. Our strong, tempered door glass comes in 1" & 1-1/4" glass thicknesses, depending on the size and use of the door.
All of our custom swinging glass doors come in many styles: stand-alone, combined with one or more end panels, as part of frameless shower doors, bi-fold doors, sandblasted doors, double doors, curved doors – there really are no limits on the type of doors we can create for you.
You can choose to keep you door translucent or to maximise privacy by using frosted, patterned, sandblasted, etched or antiqued glass. If you prefer a sleek, custom fit, we have developed a unique and creative method for hanging glass bathroom doors, panels and other enclosures without the conventional hardware. Alternatively, if you prefer to frame your door we offer chrome, nickel, pewter, copper and other precious metal finishes.
To complement your bathtub glass door structures, we offer a wide range of hardware styles ranging from classic to ultra-contemporary. These include door handles, knobs, push-pull devices, towel bars, robe hooks and more, all of which come in premium finishes of brass, oil-rubbed bronze, stainless, pewter, nickel, 24 karat gold, platinum, titanium and other precious metals.
American Frameless Glass Doors
In addition, our DynaGuard™ process, designed to increase hardness and tarnish resistance against corrosion, can be applied on all brass-colored and nickel hardware finishes.
Take a look at our picture gallery and you will appreciate just how many different shapes and forms our custom engineered frameless glass doors can take. The one thing they all have in common is that they help to keep your living and work spaces luminous and light-filled and add a clean, sculptured, elegant look no matter the architectural style of the room.
We guarantee our skilled, clean craftsmanship at every stage of production and installation. Our on-site project management will supervise quality control and assure you of a picture perfect installation every time. All our projects are backed with a manufacturer's warranty.
If you would like further information about any of the frameless glass doors displayed here, or about other ways to use structural glass for creating pool enclosures, ceilings, floors, shelves, fences, panels and more, please call 1-800-606-1776 and we will be delighted to assist.